geolocators: the project 2016-19
The Spotted Flycatcher geolocator project was carried out in Cambridgeshire by Chris Hewson and Lee Barber of the BTO, and Michael Holdsworth, BTO ringer and volunteer. Malcolm Burgess runs the parallel RSPB geolocator project in Devon.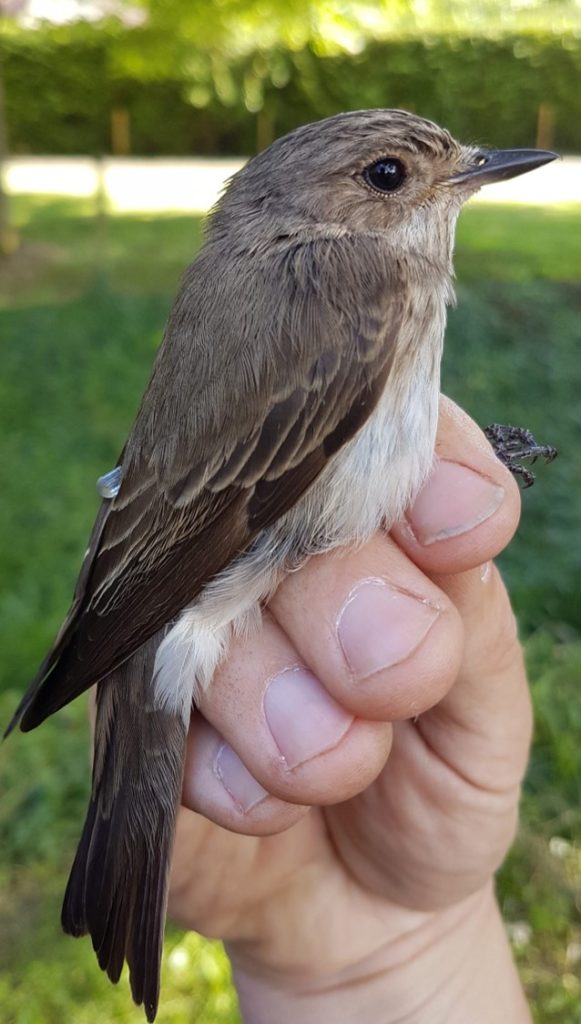 geolocators to the rescue
By 2016 light-level archival geolocator tags had become available which were sufficiently miniaturised to be fitted to small songbirds such as Spotted Flycatchers. Light-level geolocators periodically record ambient light. Daylight length (the time between dawn and dusk) is used to determine latitude, while the mid-time between dawn and dusk is used to determine longitude. In this way, two position fixes can be obtained daily.
These devices, which comprise a light-sensor, clock, battery and digital storage, now weigh as little as 0.3gm. They are attached through a Rappole-Tipton leg-loop harness, which secures the tag in the small of the bird's back with two plastic leg-loops, much like a rucksack. More recent geolocators incorporate a light-stalk.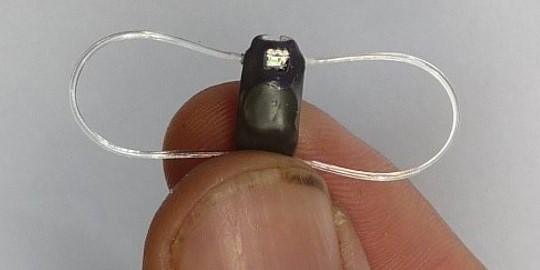 Adult Spotted Flycatchers weigh from 12gm (a £2 coin) to 20gms (with migratory fat reserves) so the device weight, at some 2-3% of body-weight, is not considered an issue; more important is to ensure a comfortable but snug fit – by adjusting the loop-length – so that the tag cannot move during flight.
These tiny tags, as used for flycatchers, can neither receive nor transmit data. The bird needs to be recaptured in order for the tag to be retrieved and the data downloaded. Species such as flycatchers which have extreme site fidelity (either in summer or winter) make ideal subjects for this sort of tracker. Since the tags are not always visible in the field, geolocator birds were given an anodised red aluminium ring to identify them. A parallel cohort of 'control' birds within the project, to enable survival comparisons (whether the tag was affecting survival) were given blue rings but no tag. In retrieval years the intention was to devote equal effort/time to re-sighting these survival 'controls' as to retrieving the tags from the geolocator birds.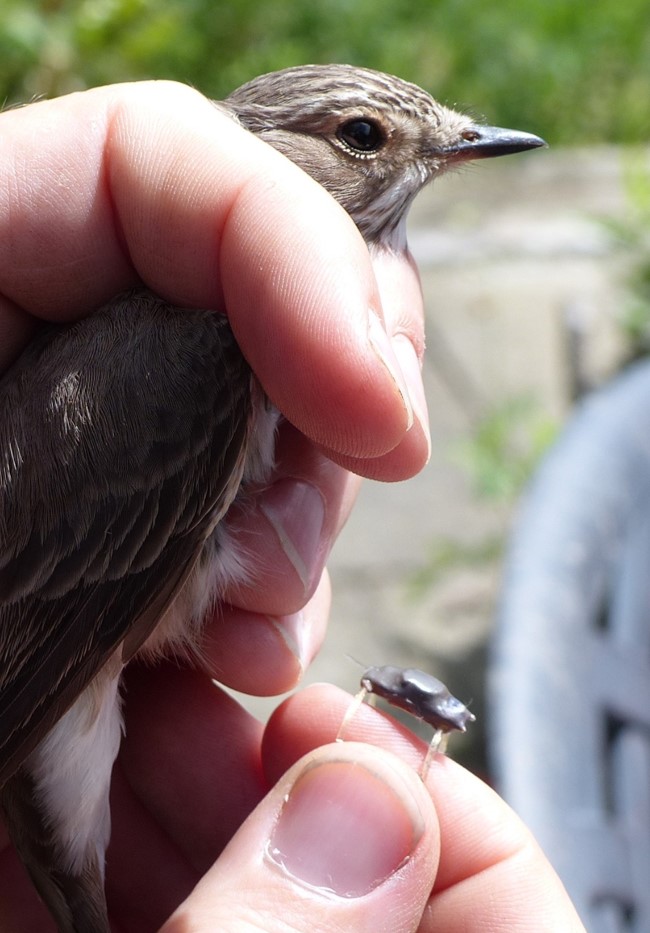 the first cycle 2016–17
In 2016, the first year of the geolocator project, flycatchers were tagged in Cambridgeshire and in Devon. A similar number of birds formed a non-tagged 'control' cohort, identifiable with blue anodised metal rings.
In 2017, nine of the Cambridgeshire geolocator birds returned, and seven tags were retrieved; two of the target geolocator birds evaded capture. Seven of the 'controls' were also re-sighted. Tags were also retrieved in Devon. All the tags provided good data on stopovers, wintering areas, and both outbound and inbound migrations. The return-rate of the non-tagged survival 'control' birds reassured us that the tags were having no effect on the survival of the geolocator birds.
The geolocator data provided new information on the routes taken both on outward and return migration. The birds wintered, unexpectedly, in Angola – detailed results will be posted here after formal publication.
the second cycle 2018-19
2018 was the second tagging year, focussing on new birds and, wherever possible, matched pairs. Nineteen more flycatchers were tagged, and sixteen were again marked with blue rings as comparator survival 'controls'.
During 2018 six of the original project birds from 2016 were either recaptured or re-sighted even though all our effort was focussed on finding new birds to mark at new sites. A further five birds at isolated sites were given metal-only ring combinations sufficient to be individually recognised.
In the 2019 retrieval year six geolocator birds were re-found, and five tags were retrieved. The data from these tags supplemented those from 2017. One tagged bird was seen on only one occasion then vanished. Six of the blue-ringed control birds were resighted. An additional seven individually recognisable birds returned, some of which were from the 2016-17 cycle; four had been first ringed in 2016 and were in their fifth calendar year.
acknowledgements
Our patient householders and landowners for allowing access for surveys, tagging and retrieval; and for tea, cold drinks and cake
Chris Hewson, geolocator project leader
Lee Barber for his outstanding fieldcraft and nesting skills
Local birders Geoff Barlow, Rob McEwen, Carole Davis and Bernard Siddle who actually helped in finding pairs
BTO publications, BirdFacts and BirdTrends
Mark Constantine for funding
Malcolm Burgess, RSPB Devon